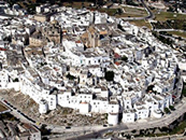 Officially listed as one of Italy's most beautiful villages, Locorotondo, as its name suggests, is a round shaped town (Loco-place; rotondo-round), centered around its beautiful Mother Church. Visitors are attracted to its white limed buildings, and its charming clean and tidy narrow streets. Locorotondo is also known all over Italy for its white wine 'Locorotondo D.O.C' .
The countryside  around Locorotondo has 138 districts (contrade),which offers a multicoloured landscape. Amidst the Mediterranean vegetation, vineyards, olive groves and vegetable gardens, you will find  the "trulli",  which are the enchanting cone-shaped houses. It is interesting to see how you can still find very old groups of trulli built around a shared courtyard (called "jazzile"), where people live in harmony. In the past they also used to share the water tank, wood stove,  farmyard etc. In one of these remaining courtyards (called "jazzile d justnidd in local dialect) is the B&B Trulli Isago.
This charming building is a complex of 12 trulli, with big stone lamie (barrel-vaulted stone buildings). Nobody has ever been able to date back to the origins of the building. As far as the actual owner knows, it has been  handed down from generation to generation by the De Giuseppe's Family, whose only heiress is 25 year old Livia De Giuseppe. Despite her young age, Livia was determined  to create new life into the treasure given to her by her parents . The name ISAGO is derived from the names of Livia's parents "Isabella and Agostino".
The opening of Trulli Isago  was in  August 2011. It was restored by master mason   Maestro Angelo Marangi and his  team of experts. Furnished in good taste  and with attention to the smallest detail, makes it the perfect holiday accommodation.    
Trulli Isago sleeps up to 14 people, so it is not just  suitable for large families or groups of friends, but also for couples who want to spend a relaxing time in one of its apartments.
Trulli Isago  is composed of several rooms in the same structure, where there is the possibility of adding a sofa bed
The outside yard with its flowering garden is ideal for relaxing, and soon Trulli Isago will be complimented by a large swimming-pool, it will truly make your holiday  an unforgettable experience.